Home /
News/

Daiwa Capital Markets Europe appoints a new CEO
Daiwa Capital Markets Europe appoints a new CEO
27 October 2021
Daiwa Capital Markets Europe ("DCME") is delighted to announce that Megan McDonald will join as its new CEO in January 2022.
Megan brings with her more than 20 years of experience in the Investment Banking industry from her time at the Standard Bank Group, a leading financial services group that operates predominantly across Africa. She has held a number of significant positions while working in South Africa, the United Kingdom and the United States, and has a wealth of experience in this sector.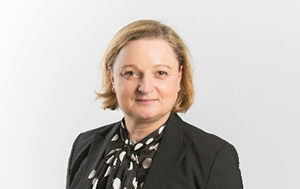 Megan McDonald
With Megan's appointment, DCME continues to show its commitment towards 'Diversity & Inclusion' and the 'Women in Finance Charter', as the percentage of women on the company's Board of Directors will rise to 36%.
DCME's Chairman, Douglas van den Aardweg, was appointed as the company's interim CEO when Keith Meekins stepped down from his CEO position back in April this year, and will remain in this role until Megan starts in her new position. Doug commented, "The Board looks forward to welcoming Megan to DCME. We are confident that she is the right person to lead our business at this critical time in its corporate lifecycle."
Megan commented, "I am delighted to be joining DCME as the new CEO. As the European link to global capital markets for the Daiwa Securities Group, I believe that DCME is uniquely positioned to deliver excellent products and services to our clients, and in so doing, contribute towards a better and more sustainable future for all."
Megan holds Bachelor of Commerce and LLB degrees from the University of Kwa-Zulu Natal, South Africa and a BCL from Oxford University, England.
Back to news list
Notes to editor
Daiwa Capital Markets (www.daiwacm.com/uk) is the wholly-owned investment banking arm of Daiwa Securities Group. The award winning firm provides integrated financial services including brokerage, capital raising, IPOs, M&A and other creative financial solutions to clients through a network of more than 20 offices across Asia, the Middle East, Europe and North America. Corporate finance and M&A advisory services are provided in Europe through DC Advisory (www.dcadvisory.com), a wholly owned subsidiary of Daiwa Capital Markets Europe Limited.
Daiwa Securities Group (www.daiwa-grp.jp/english) is one of the largest brokerage and banking groups in Japan and employs approximately 14,000 professionals worldwide providing comprehensive financial services, including retail brokerage, investment banking and asset management. Daiwa Securities Group has been in continuous operation in the financial services industry since 1902.
For more details, please contact:
Grant Lewis
Daiwa Capital Markets Europe Limited
5 King William Street, London, EC4N 7AX
+44 (0)20 7597 8106
For up to date Research analysis, see our blog site here.