Home /
News/

Daiwa Securities Group Inc. ranked first in Institutional Investor Magazine's 'All-Japan Executive Team' for the Insurance & Other Nonbank Financials sector
Daiwa Securities Group Inc. ranked first in Institutional Investor Magazine's 'All-Japan Executive Team' for the Insurance & Other Nonbank Financials sector
14 May 2021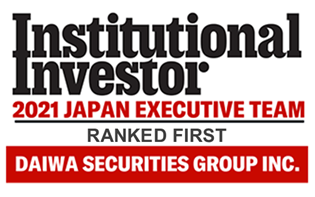 Great news! Daiwa Securities Group Inc. has ranked first place overall for the Insurance & Other Nonbank Financial category of 'The All-Japan Executive Team', released by the US financial information magazine 'Institutional Investor'. This selection is based on the Group being ranked in first place for the 'Best CEO', 'Best CFO', 'Best IR Professional', 'Best IR Team', 'Best IR Program', and 'Best ESG' categories.
715 investors and portfolio managers, and analysts from 298 voter firms participated in this survey, nominating a total of 510 companies across 25 sectors. For more detailed information, please see the Institutional Investor website.
Click here to find more information.
Back to news list
Notes to editor
Daiwa Capital Markets (www.daiwacm.com/uk) is the wholly-owned investment banking arm of Daiwa Securities Group. The award winning firm provides integrated financial services including brokerage, capital raising, IPOs, M&A and other creative financial solutions to clients through a network of more than 20 offices across Asia, the Middle East, Europe and North America. Corporate finance and M&A advisory services are provided in Europe through DC Advisory (www.dcadvisory.com), a wholly owned subsidiary of Daiwa Capital Markets Europe Limited.
Daiwa Securities Group (www.daiwa-grp.jp/english) is one of the largest brokerage and banking groups in Japan and employs approximately 14,000 professionals worldwide providing comprehensive financial services, including retail brokerage, investment banking and asset management. Daiwa Securities Group has been in continuous operation in the financial services industry since 1902.
For more details, please contact:
Grant Lewis
Daiwa Capital Markets Europe Limited
5 King William Street, London, EC4N 7AX
+44 (0)20 7597 8106
For up to date Research analysis, see our blog site here.