Home /
News/

Daiwa named joint first in ESG in IFC underwriter survey
Daiwa named joint first in ESG in IFC underwriter survey
27 July 2020
In June 2020, the supranational issuer IFC (International Finance Corporation) undertook an inaugural survey of underwriters to "…evaluate internal practices as well as to assess the significance that ESG holds in the underwriter's corporate strategy". Twenty-one questions were sent to over fifty financial institutions, including Daiwa, which has a long-standing and successful relationship with IFC.
Daiwa Capital Markets Europe Ltd. (DCME) responded to the questionnaire and we are delighted and proud to announce that DCME has ranked joint 1st out of the 44 banks that responded. This highlights the strong commitment of the Daiwa Group towards ESG/SDG issues and our global presence in growing sustainable finance space. Most of all, it underscores Daiwa Group's continuous focus on building a more sustainable world.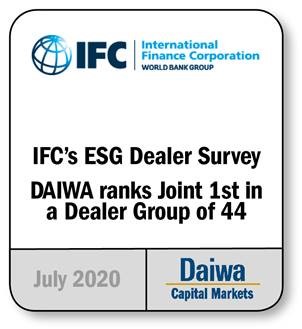 Back to news list
Notes to editor
Daiwa Capital Markets (www.daiwacm.com/uk) is the wholly-owned investment banking arm of Daiwa Securities Group. The award winning firm provides integrated financial services including brokerage, capital raising, IPOs, M&A and other creative financial solutions to clients through a network of more than 20 offices across Asia, the Middle East, Europe and North America. Corporate finance and M&A advisory services are provided in Europe through DC Advisory (www.dcadvisory.com), a wholly owned subsidiary of Daiwa Capital Markets Europe Limited.
Daiwa Securities Group (www.daiwa-grp.jp/english) is one of the largest brokerage and banking groups in Japan and employs approximately 14,000 professionals worldwide providing comprehensive financial services, including retail brokerage, investment banking and asset management. Daiwa Securities Group has been in continuous operation in the financial services industry since 1902.
For more details, please contact:
Grant Lewis
Daiwa Capital Markets Europe Limited
5 King William Street, London, EC4N 7AX
+44 (0)20 7597 8106
For up to date Research analysis, see our blog site here.